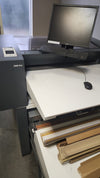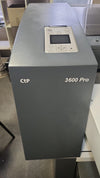 iCTP Glunz & Jenssen 3600 Pro
The system produces pressready aluminium plates, without the use of chemical processing, in a daylight environment suitable for commercial printers, quick printers and inplants, small and midsize newspapers and book printers.

The PlateWriter 3600 Pro is based on a new technology that takes inkjet platemaking to a completely new level in productivity and usability.
The PlateWriter 3600 Pro is based on the wellknown and stable solvent ink technology (same as used in the PlateWriter 2000/2400 systems) ensuring increased stability and reliability in day to day production operations. Furthermore the PlateWriter 3600 Pro is introduced in a modern design with easy access for cleaning and maintenance.
This makes the user experience even better than the earlier PlateWriter models. PlateWriter 3600 Pro is an enhanced format model offering landscape plate loading for an even higher throughput speed.
The PlateWriter 3600 Pro is suitable for 2up, 4up and 8up press formats up to 915 x 1140 mm (36.0 x 44.9″) plate sizes.